{newsletter}
Weather
Sat 1 / 3
Sun 0 / 6
Mon 1 / 8

SloveniaHolidays.com > Activities > Cycling


Cycling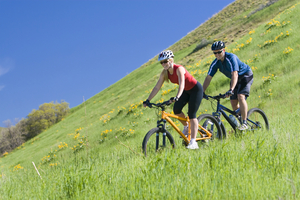 Explore Slovenia on a bike

Slovenia boasts several fascinating cycling routes for seasoned and casual cyclists. Several road, trekking, mountain and family routes lead across the land from one cultural or natural landmark to another.

You can choose a cycling route depending on the type of cycling you like: family cycling, road cycling, mountain biking or bike trekking. With a mouse click on the text you can select the desired type of cycling.

To find a cycling track easier choose the search engine "Search for activity" and type in the desired region/place you want to cycle – a list of cycling routes for the chosen region/place will appear (e.g. road cycling tours starting in Upper Carniola or only in Bled). Additionally, you can filter the matches either by the length of the cycling trip (1-15 km, 15-30 km, 30-45 km, 45 km), the degree of difficulty (easy, medium or hard) or the time of cycling (2 hours, 2-4 hours). Along the results also the number of matches for the chosen type is given.
All the cycling routes are described in great detail with pictures, diagrams, maps and GPS information.

For each cycling path it is possible to look up all the accommodation options along the way. Also a list of restaurants, cafés, bike rentals, bike workshops, travel agencies and natural, cultural or historical sites nearby is available.
If you wish to receive our cycling e-news letter you can sign up for it in the left menu under the section "News".


Sloveniaholidays recommends
---