{newsletter}
Weather
Wed 5 / 13
Thu 9 / 16
Fri 7 / 14

SloveniaHolidays.com > Prlekija


Prlekija
Presentation of the destination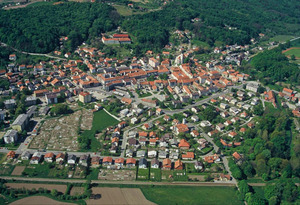 Prlekija
Ljutomer covers the northeastern part of Slovenske Gorice and is at the heart of Prlekija. Many famous Slovenians came from this area, including linguist Fran Miklošič, film maker Karol Grossman and composer Slavko Osterc.The people of Ljutomer have been making wine for centuries. Some of the highest quality vintages are made at Jeruzalem. You can also take in the wonderful view when driving along the Jeruzalem wine road with tourist stops at friendly local wine shops and tourist farms. Ljutomer is also known for its delicious cheeses and hardy horses. During the summer, horse races are held at the city hippodrome.

Jeruzalem with its holy name, it's energy, wine road containing top quality white wines, amazing vistas and pilgrim church, has every right to be described as a place of heaven! As far back as the 13th century, the Crusaders, returning from nowaday's Israeli and Palestinian Jerusalem were certainly convinced.

Its location within Prlekija is in north-eastern Slovenia with Austria on the northern border and Croatia on the southern. It is a region of delicious cuisine, quality wines, sweeping vine terraced hills, melodious rattles (klopotec). It has a deep, natural culture and heritage, with thermal springs, spas and trotter horses.

BEEKEEPING MUSEUM
This museum gives a unique insight into the life and work of the Prlekian people. It is 100 years old and made completely from wood. With its semi circle shape, it is a unique Slovenian building. It was lived in until 1945 and some exhibits are 200 or even 300 years old!

BLACKSMITHS' MUSEUM
As the horse used to be a very important farm animal, there were, of course, many blacksmiths in this region. Despite new technology, the horse remained important - not so much for farming but for sports, so the blacksmith's work has not died out. If you want to see how blacksmiths worked and what tools they used, you can visit the workshop at the museum in Razkrižje Nr. 16. The Horvats have a 150 year old blacksmiths tradition. Horse lovers can ride in a menage, in the countryside or have a carriage ride. The Horvats offer home-made wine and platters of cold meat. You can buy hand made local artisan iron works which are a great present or a lucky charm!

RALO MUSEUM
This is an open air museum for tools and machines used in manual field work. The »Ralo« is a branch with a hook, which ploughed the ground. It did not turn the soil but only loosened it. First it was pulled by people, later by animals. The plough evolved from the »ralo«. There are many types: wooden, metal, double ploughs, etc. They were pulled by one or two oxen. The »Brana« which had different shapes and sizes, was used for loosening and levelling the soil. The »Black kitchen« (open fire kichen) is still used for drying meat. Inside there are objects which had been used up until 1950.
Over 300 machines are exhibited and the Primecs strive to preserve this part of Slovenian cultural heritage. They invite schoolchildren and students interested in farming and machine construction to visit and work with them.They offer such delicacies as home-made bread with lard and local spring water.

ŽUMAN POTTERY
The potter's wheel! The Žumans have been potters for over a century. All their products are hand made and they fire them in the traditional way in a wood burning kiln. The smoke gives each product a different cast, so each product is completely unique.


Prlekija tourism:
Sloveniaholidays recommends
---