{newsletter}

SloveniaHolidays.com > Highlighted contents


Accomodations near ski resorts

Accomodations near Slovenian ski resorts: Krvavec, Rogla, Mariborsko Pohorje,Vogel ...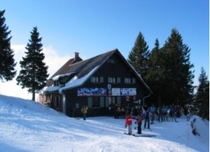 SKI SLOPE KRVAVEC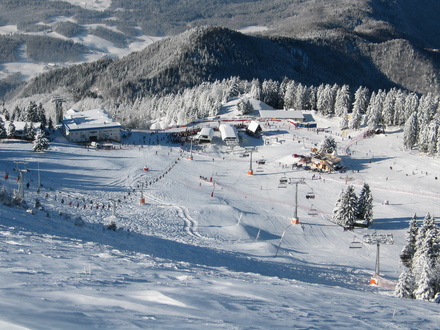 Krvavec is closer to Kranj, but it is still close enough to Ljubljana to allow a pleasant half-day skiing trip. A new cabin lift was built in 1999 and provides visitors with comfortable transportation from the valley to the slopes, without having to wait in line.

The slopes of Krvavec, a peak on the edge of Kalško pogorje, stretch over mountain pastures, so a very thick sheet of snow is not necessary for ideal skiing. The season usually lasts for about 150 days (100 guaranteed) because of snow cannons that »help« the natural snow and can be used to cover 55 percent of the slopes.

Beginners, recreational skiers and professionals are all welcome; you can also expect a rich entertainment and snow animation programme.
Additional offer:
ski school, ski runs, competition ground, freestyle ski slope, ski equipment rental, ski equipment repair, snow kindergarten

Accomodations on ski slope:


Accomodations near by:


Click for more accomodations near ski slope Krvavec

---

SKI SLOPE ROGLA

An extremely well-equipped recreation center.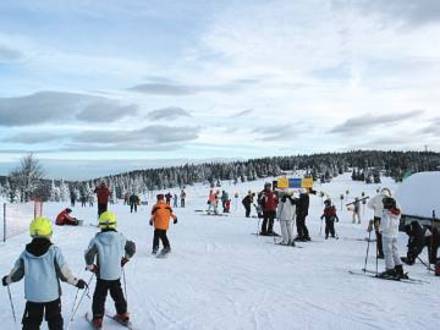 A natural health resort. All in one place. 1517 meters above level. This is the olympic and skiing center of Rogla.

Even top, professional skiers and snowboarders will find something for them; for more than ten years, Rogla has been the site of FIS competitions and the European cup.

Since 1997, Rogla is also an olympic center, as its location, mild climate and many sports facilities make it sutable for sportsmen's condition and tactical training.

Here are just some of the things added recently: a new wellness center with a pool, whirlpools, a sauna center (Finnish, Turkish and infrared sauna) with massages and therapies.

There is one more thing you will find in the vicinity: Terme Zreče, 17 kilometers away, complementing the facilities at Rogla with acratothermal water pools, saunas, solariums etc. A bus line runs regularly between Rogla and Terme Zreče.

Additional offer:
night skiing, snowboard park, winter - summer alpine coaster, competition ground, motorized sled, ski equipment rental, ski equipment repair, snow kindergarten

Accomodations near by:

Click for more accomodations near ski slope Rogla



---
Kranjska Gora is a summer and winter tourism center in the northwestern part of Slovenia,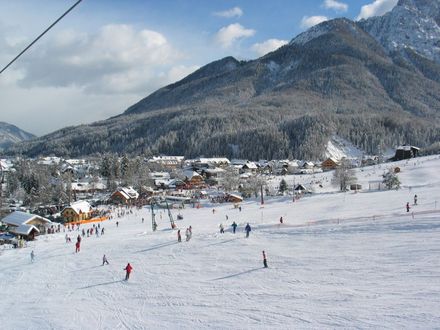 near the border with Austria and Italy. In the south, it extends into the Triglav national park. The mighty peaks of the Julian Alps, stretching from Mojstrana to Rateče, and the ski slopes beneath them attract hikers, mountaineers, cyclists and skiers.

The Kranjska Gora ski lifts are the oldest in Slovenia. They are easily accessible, located by the international road, they have favourable weather and snow conditions due to their low altitude (the lower station is 813 meters above sea level), and the slopes are suitable for all types of skiers.

Beginner and recreational skiers should head for the slopes in Kranjska Gora, Mojstrana, Martuljek and Planina pod Golico, while experienced skiers will find a more challenging slope in Podkoren. That slope is also where the best skiers in the world compete each year in the slalom and giant slalom world cup.
Additional offer:
night skiing, snowboard park, ski runs, sled tracks, ski touring, competition ground, children´s playground

Accomodations near by:
Click for more accomodations near ski slope

---
SKI SLOPE VOGEL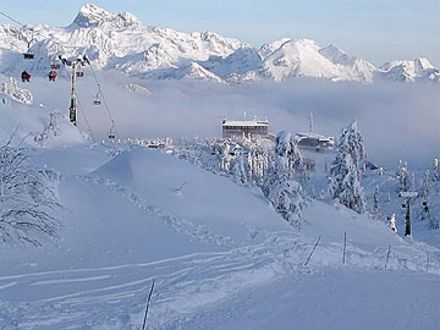 Vogel is one of the few ski slopes that offers natural snow until mid-April. As it is part of the first mountain chain above the Adriatic sea, it has considerably more snow than other places at the same altitude in the Alps.

The pleasant mountain ambience and the incredible views of the area (the ski center lies in the national park above Lake Bohinj) make Vogel a magical place. But despite the majestic location, it is not an extremely challenging ski slope.

Plenty of sunshine, amazing panoramas and nice well-kept ski trails are just the thing for those who find the greatest pleasure in skiing. Experienced skiers can enjoy the opportunity to ski outside the marked trails.if the weather conditions are suitable

Additional offer:
night skiing, snowboard park, sled tracks, ski touring, paragliding, ski equipment rental, ski equipment repair, snow kindergarten

Accomodations near by:


Click for more accomodations near ski slope

---
SKI SLOPE MARIBORSKO POHORJE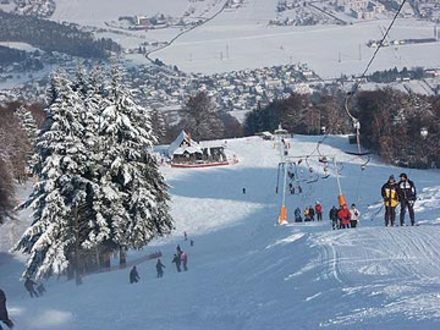 Mariborsko Pohorje, a mountain range with its highest peak rising 1347 meters above sea level, is truly something special: it is practically a part of Maribor, Slovenia's second largest city.

You can reach the cabin lift leading from the valley to the skiing slope via the city bus network. In the absence of natural snow, artificial snow guarantees a hundred ski days a year. If the temperature is suitably low, the slope is covered with snow all the way down to the valley. It is also lit: the seven-kilometer slope is considered the longest lit ski slope in Europe.

Mariborsko Pohorje is also known for the traditional Zlata lisica (»Golden fox«) women's alpine skiing world cup. Ideal conditions offered by the snow stadium, excellent organization and up to 25000 spectators (by far the most in women's alpine skiing around the world) have all contributed to the reputation of this Slovenian ski slope. It also organizes two world cup tournaments in snowboarding and the telemark world cup, as well as the FIS youth's world tournament.

Additional offer:
night skiing, ski runs, sled tracks, competition ground

Accomodations near by: