{newsletter}
Weather
Sun 0 / 6
Mon 1 / 8
Tue 2 / 8

SloveniaHolidays.com > Activities > Winter activities


Winter activities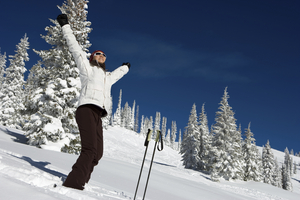 Winter activities in Slovenia

During the colder months, you can enjoy several unforgettable activities on the snow: skiing, ice skating, sledding, snowboarding, ski running, ski touring… Most Slovenian ski centers are equipped with snow cannons.

You can look for the various winter activities with our browser option »Search for activity« on our internet portal, where you can enter a region/place and choose the type of activity for your vacation or your daily trip (for example: ski resorts in Gorenjska region or just around Bled). The browser will provide you with your desired activity in the region that you have chosen. Under the option "winter activities" you can also easily select the desired activity with a click on e.g. skiing, ice skating, snowshoeing or snow sledding.

You can additionally sort the ski resorts after the length of the slopes (e.g. 5 km, 5-10 km, 10-15 km, 15-20 km or 20 km) and after the evaluation ratings of the skiers (from worst to best or from best to worst ratings). Along with the results also the number of your chosen search entry is shown. The Slovene ski resorts are presented in great detail at our internet portal – you can browse through pictures of the ski resort, click on a panoramic view, read the descriptions of the ski slopes and ski lifts and have a look at the lift ticket prices, coming events and a list of other fun winter activities nearby. Check the weather forecasts, snow conditions and other updates from your chosen ski resort daily and browse through the offer of accommodations, restaurants, bars, ski rental shops, ski schools and sports shops in the area. There is also a "winter corner" section waiting for you, where you can find helpful tips for having a great time on snow.

You can also leave a comment e.g. about a ski resort and read through the comments of other users to get even more insight. If you wish to receive a monthly e-newsletter from our team on winter activities and other great winter offers in Slovenia please go to the menu section on the left and scroll down to the »E-News« box.
Sloveniaholidays recommends
---