SloveniaHolidays.com > Activities > Slavnik


Slavnik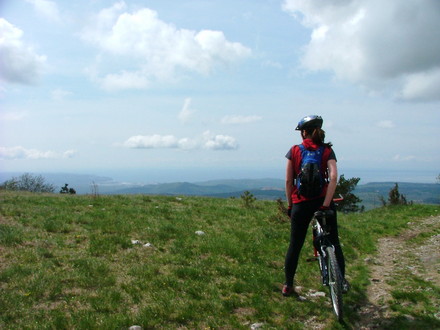 ---
Starting point: Kozina - Hrpelje
Path length :
22.0 km
Time:
02:00:00
Difficulty:
Medium
Ground:
Macadam, Cart track
---
Description of path
The route begins at Hrpelje pri Kozini, where the road branches off toward Slavnik. The road is asphalt for the first few meters, then macadamized all the way to the top. The ascent is generally moderately to challenging and easy to navigate. There are only two intersections during the entire 11-kilometer ascent, and the road to Slavnik is clearly marked at both. You'll only get your first view of the sea at the pass beneath Grmada, but the view from the top and the lodge will more than repay the effort. The short ascent to the very top is practically compulsory, as you'll get a wondrous 360-degree view if the weather is suitable. A sign with directions and names of the peaks ensures that you'll be able to recognize all the mountains you see in the distance. To descend, head straight west from the lodge and follow the road right back to the starting point. There are also other options. One goes southeast from the lodge and onto a fairly poor gravel road leading to the pass beneath Grmada. Another, more challenging option begins just beneath the sign for the Slavnik natural park. Here, turn left onto a gravel road toward the village Podgorje and descend down the southern slope. From the village, follow the road by the railroad tracks to the starting point. Of course, you also have to pay the price for a nice descent by overcoming a couple of light ascents.
---
A mountain bike is recommended, along with all other cycling equipment (helmet, gloves, backpack with spare clothes …) There's no water available on the way to the top, so make sure you bring enough to last you all the way up. But there's plenty available at the lodge at the top!
---
A nice route to one of Slovenia's thousand-meter-high mountains, with a beautiful view of the Slovenian coast and Nanos. It is especially suitable for winter or spring.
Kozina
Warning
The author of these pages takes no responsibility for the described cycle routes or for the accuracy of the data. We have presented the cycle routes to the best of our ability, but the cyclist and the maintainer of the route are ultimately responsible for the safety of the trip.