SloveniaHolidays.com > Activities > Vodiška planina


Vodiška planina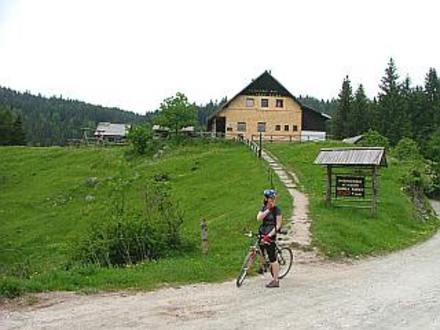 ---
Starting point: Lancovo, Kamna Gorica
Path length :
26.0 km
Time:
02:30:00
Difficulty:
Medium
Ground:
Macadam, Forest path
---
Description of path
You can begin cycling anywhere in the Lipnica valley. Bled, Lesce and Radovljica are also just a few kilometers away. This description assumes that you start in Kamna Gorica. At Zgornja Lipnica, turn onto the road for Talež and Jelovica. This main road to the plateau is very well-marked all the way to the Partisan home at Vodiška planina. Simply follow the signposts, first to Goška Ravan and then to Vodice. The ascent takes about an hour and a half, depending on your constitution. For those who like to take it easy, there are several stops (Talež, Goška ravan and Vodice) where you can rest for a few minutes. More adventurous cyclists can reach Vodice in a completely different way – along one of several trails on Jelovica. But be careful if you decide to do this: make sure you have a good map! Many cyclists have got lost on the plateau where all crossroads look the same. After resting at Vodiška planina, descend down the plateau on a very good gravel road leading all the way toward the quarry and Kamna Gorica. Roads lead in all directions, but stay on the worn narrow gravel road. After about five minutes, you'll reach signposts for Kropa and Kamna Gorica. You can follow either of them. If you head for Kropa, you'll need to stay to the left, the road is a little less steep, but you'll eventually reach the same road eventually. Just make sure you don't turn right toward Kropa later. The road toward Kamna Gorica is steeper and more difficult, but not too hard. The gravel road ends all too quickly and you'll soon reach a forest road. Follow it for two curves. When the road curves left, go right, back into the forest. A somewhat poor gravel road awaits. Toward the end you can use a barely visible road to avoid part of the usually damp road that leads past Miklavževec to the main road in the Lipnica valley. Those who don't like descending through forests can still take the road through the quarry and into the valley.
---
The route leads over the Jelovica plateau almost to its eastern edge. It follows a forest road, making it suitable even for the hot summer days. The descent to Kamna Gorica is very fast and fluid, and the ground is simply perfect for bicycles.
Radovljica - Kamna Gorica - Lesce
Warning
The author of these pages takes no responsibility for the described cycle routes or for the accuracy of the data. We have presented the cycle routes to the best of our ability, but the cyclist and the maintainer of the route are ultimately responsible for the safety of the trip.