SloveniaHolidays.com > Activities > Krog po stranskih poteh


Krog po stranskih poteh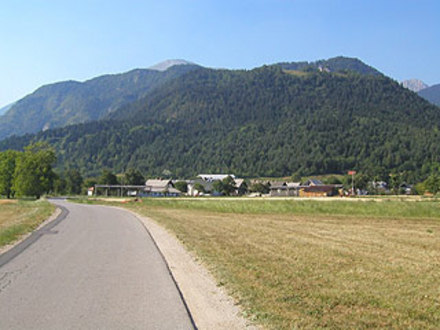 ---
Starting point: Lesce
Path length :
38.0 km
Time:
02:00:00
Difficulty:
Easy
Ground:
Asphalt, Macadam
---
Description of path
In the center of Lesce, turn toward Begunje and cycle past the airstrip through Hlebce. In Begunje, turn left toward Poljče and continue in the direction of Žirovnica. After crossing the railroad tracks, continue straight through Moste. Once you reach the main road, cross it and descend to the Moste hydroelectirc power plant. Cross the dam and follow the macadamized road for about 250 meters to the freeway viaduct. Go up an asphalt slope, then cycle along 1250 m of macadam to Blejska Dobrava. Continue along the asphalt through Blejska Dobrava, then turn left toward Bled. You'll reach Kočna after a short ascent. Head for Spodnje Gorje, where you should turn right toward Zgornje Gorje at the store. Turn right toward Pokljuka at the intersection by the church. Turn left behind the bus station in Krnica. Descend through Poljšica to Bled, where you should cross the narrow bridge over the railroad tracks. Afterwards, turn right twice and descend past the railroad station to Lake Bled. Cycle along the lakeshore to Mlino. There, turn right toward Selo and cycle directly through Selo. At the intersection of many roads, continue in the direction of Bodešče and onward to Koritno. Once you reach the intersection with side roads on both sides, turn right. Descend to the Sava Dolinka river and cross it over the main road bridge. Follow the cycling trail back to Lesce.
Lesce - Žirovnica - Zgornje Gorje - Bled
Warning
The author of these pages takes no responsibility for the described cycle routes or for the accuracy of the data. We have presented the cycle routes to the best of our ability, but the cyclist and the maintainer of the route are ultimately responsible for the safety of the trip.