SloveniaHolidays.com > Activities > Iz Maribora na Pohorje


Iz Maribora na Pohorje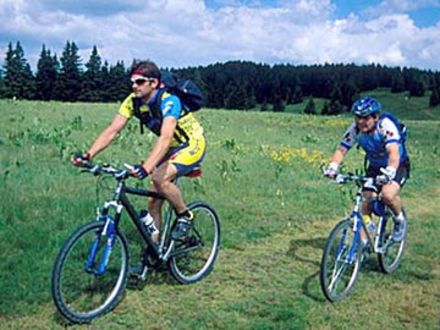 ---
Starting point: Maribor
Path length :
32.0 km
Time:
02:20:00
Difficulty:
Easy
Ground:
Asphalt, Forest path
---
Description of path
Most of the route in the eastern part of Pohorje goes along two roads from the valley to the Bellevue hotel. These roads are extremely popular among mountain cyclists. You can ascend to the hotel via the forest road from Rožna dolina to Kordek. Descend back to the valley via the forest road to Pohorski dvor.
---
- Trikotna jasa (»The triangular meadow«) above the Snow Stadium offers a good view of Maribor - the Drava valley - the Drava plain and Slovenske gorice.
Maribor
Warning
The author of these pages takes no responsibility for the described cycle routes or for the accuracy of the data. We have presented the cycle routes to the best of our ability, but the cyclist and the maintainer of the route are ultimately responsible for the safety of the trip.