SloveniaHolidays.com > Activities > Lisca


Lisca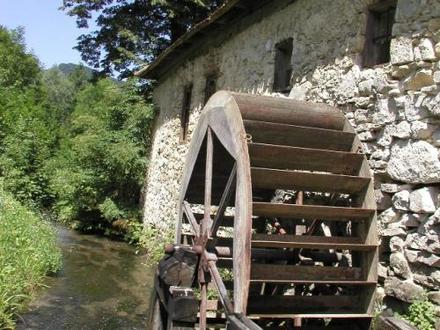 ---
Starting point: TIC Laško
Path length :
49.0 km
Time:
00:00:00
Difficulty:
Hard
Ground:
Asphalt, Macadam
---
Description of path
Laško, Lahomno, Vrh nad Laškim, Velike Gorelce, Mišji Dol, Jurklošter, Polana, Sele, Lisca, Polana, Paneče, Rimske Toplice, Strensko, Laško.

Setting off from the in front of the TIC cycle across the Savinja bridge, and to head towards Marija Gradec, where to turn left immediately after crossing a small bridge over the Lahomnica stream. On the right to spot the Church of Mati Božja. The road gently ascends through the village of Lahomno. At the end of the village to turn right over a small bridge and before Tev?e to the right again across a bridge – the signpost Vrh nad Laškim. Thereafter to cycle uphill for 3.7 km on an asphalted road to Vrh nad Laškim (539 m). At the crossroads in the village to keep Jurklošter direction. Previous to Velike Gorelce, the road straightens to rise again slightly up to the hamlet. It keeps straight on through the village and downhill to the valley of the Mišnica stream. At the end of the descent it sharply bends to the right to continue towards Mišji Dol and to turn left on the road Rimske Toplice – Jurklošter. The road gently ascends towards Jurklošter where it turns right crossing the bridge over the Gračnica – a signpost Lisca 10 km – where an asphalted road terminates. A gentle ascent of 4 km follows along the stream Lahomščica as far as Polana, to continue ahead by an asphalted road towards Sele and Lisca direction. After 0.5 km the asphalted road comes to its end to rise by 1.3 km ascent up to Sele. In Sele to follow the signpost Lisca 4 km and continue on an asphalted road towards Lisca. The Tončkov dom alpine lodge (930 m) is open daily (except on Tuesdays). Overlooking to all directions, especially over the Sava Valley (Posavje and Zasavje). Back from Lisca, a downhill ride takes us to Polana on the same path where to turn towards Paneče and to continue downhill for another 5 km to the Gračnica stream to take the turning left on to the Jurklošter – Rimske Toplice road in the direction of Rimske Toplice. To keep straight on in Rimske Toplice by an asphalted road, past the Hochkraut Inn to Strensko (see cycling information boards). A macadam road will take us by the railway line to Marija Gradec, where it would take us only a few-minute ride to Laško.
Laško - Rimske Toplice
Warning
The author of these pages takes no responsibility for the described cycle routes or for the accuracy of the data. We have presented the cycle routes to the best of our ability, but the cyclist and the maintainer of the route are ultimately responsible for the safety of the trip.