SloveniaHolidays.com > Activities > Okoli Pesnice


Okoli Pesnice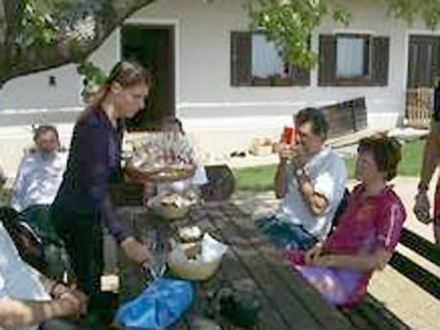 ---
Starting point: Pesnica
Path length :
42.0 km
Time:
00:00:00
Difficulty:
Easy
Ground:
Asphalt, Macadam
---
Description of path
Your trip begins at the fruit market in Pesnica. After a short ride along the main road in the direction of Maribor, turn into the Dobrenja valley. Cross the overpass using the overpass in the direction of Ranec, then cross the railroad tracks and the »old« road to Šentilj. Soon after that, a true circular journey through Slovenske gorice begins. After descending to Vajgen, continue through the valley past the orchards to Jareninski dvor, where you should turn left toward Šentilj. While cycling over the hills of Polički hribi, you can quench your thirst at Mrzli studenec. After a steep descent to Zgornji Jakobski dol, one last ascent awaits you, to vineyard-covered Hlapje. A narrow road winds between the wonderful vineyards, vineyard cottages and vine-dressers cottages to the Mulec chapel. Descend to the Vogrin windmill, then continue past Johanez (the statue by the road) through the Vukovska dolina valley along the milk road to Pernica. Cycle past the Pernica lake and the orchards on the left. The last part of your journey is through the peaceful valley called Gačniška dolina back to the center of Pesnica, where your journey began.
Pesnica pri Mariboru
Warning
The author of these pages takes no responsibility for the described cycle routes or for the accuracy of the data. We have presented the cycle routes to the best of our ability, but the cyclist and the maintainer of the route are ultimately responsible for the safety of the trip.